Market Xpert Help Library
Help Topics:
General Information

Training Resources

Bid Wizard

Price Strategies

Market Xpert Basics

Item Search

Bid Wizard

Create a New Bid

Edit Functions

Export Functions

Schedule Functions

My Presentations

Price Strategies

Ink & Toner

Reports

Custom Settings

Preferences

IT - Site Options

V1 - SP Richards EDI

V2 - Essendant EDI

V4 - Azerty EDI

V6 - Supplies Network EDI

V7 - Lagasse EDI

VA - SPR Canada EDI
View Switcher Link
If you navigate to Market Xpert on a mobile device, the default views are specifically designed for a mobile device. These mobile views are necessary for many of the smaller mobile devices. Trying to see a full desktop browser view of Market Xpert on a small mobile device is impractical.
Here is the default mobile view of the Item Search search page as seen on a tablet:

However, there are times when a full desktop view of Market Xpert is preferred. Many mobile cell phone devices are becoming larger and with the popularity of tablets growing, we wanted to give our customers a choice of which views they preferred.
Note that in the above screen shot in the top left corner the text 'Displaying mobile view' followed by a 'Desktop view' link.
Clicking the 'Desktop view' link will open the full desktop view of Market Xpert as seen here on an iPad: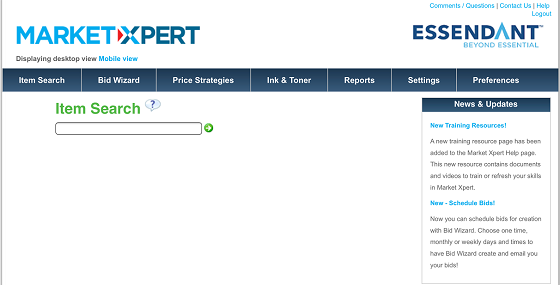 The view switcher link for the desktop view is located in the upper left corner just below the Market Xpert logo.
Which ever view you prefer, we will remember it on your next visit and show your preferred view until you change it.
Please Note: The View Switcher Link will not be available on all pages. Pages with posted data such as a search results list will not have the link for security reasons. Bid Wizard, Price Strategies, Preferences and Reports are excluded due to the amout of information required to perform these functions.