Market Xpert Mobile
Pricing in your pocket
Put the power of Market Xpert single item search at your fingertips. Cross-reference products and see competitive prices on the fly. Use Sales Xpert to compare your prices to chain store pricing in real time in the field. Then place an order for a customer directly from your phone.
Watch the Mobile App tutorial: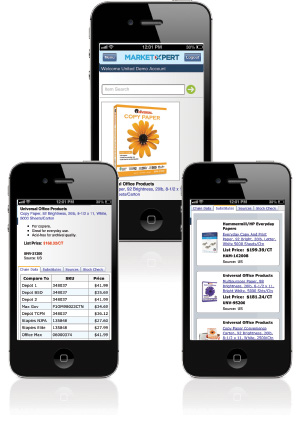 Testimonials
"Without Market Expert we wouldn't be able to price our products, plain and simple!"
Abe Hollender TonerQuest Office-Supply
"Market Xpert, and especially the Bid Wizard, now puts us in the driver's seat when it comes to competing against the Big Box stores. The information is accurate and updated regularly. It's a fantastic tool... every independent dealer should use it."
Jim Ellis, I Sales & Contract Support Analyst Officewise Furniture & Supply
I used the Market Xpert today to quote a Staples order and it worked great!! Very helpful! And we got the order!
Paula Leigh, Preferred Office Products